WEB DESIGN PROJECT: STODDARD HONEY
Raw honey from our family to yours.
We designed a new logo and website for Stoddard Honey. We then developed their website & provided initial SEO optimization.
Deliverables:
SEO,
Branding,
Design
& Development
Branding design work
Stoddard Honey wanted their honey labels to match the new style of their new logo and website. So, they employed us to design some custom product labels for their company and they love the new designs.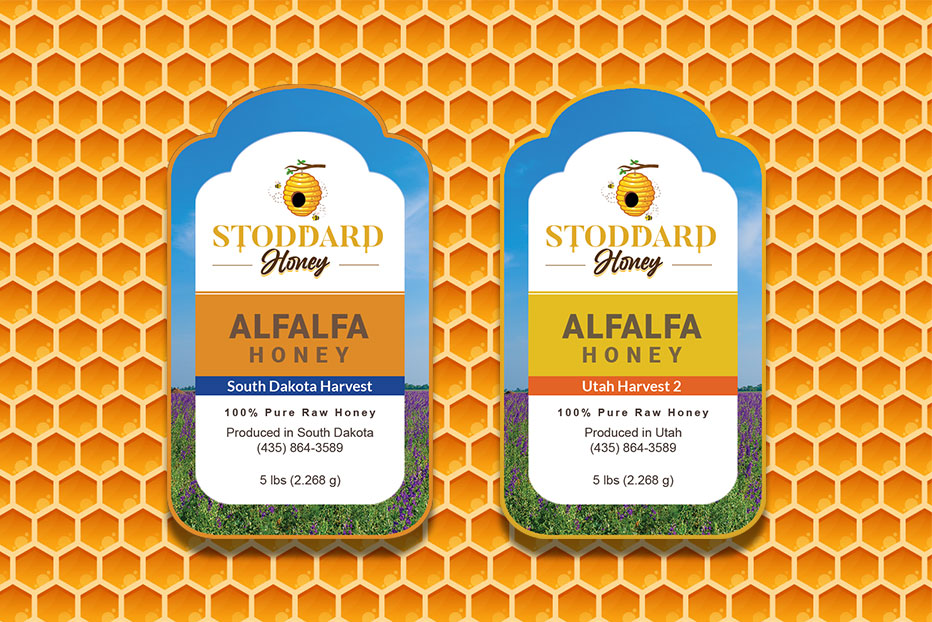 Style guide
For Stoddard Honey's website design we chose organic colors that matched the color of honey and nature.
Web Design & development
Stoddard Honey hired us to design and develop a new website for their company. We designed a custom home page for them and built 3 other unique pages (Shop page, Product page, and Contact us page).
Homepage Development
Family history
Stock status of honey
Interactive google map showing where their honey is made
Photo gallery slideshow
The purpose of this page was to quickly communicate that they sell raw honey and tell their company's history.
Stoddard Honey e-commerce store
Display products available for purchase
We developed the e-commerce functionality for Stoddard Honey to allow customers in the future to place orders online without as much work on the part of Stoddard Honey.
Order Request form
Select type of honey
Select product
Select quantity of each product
The purpose of this form is to allow customers and potential customers to request to make a purchase.  This helps Stoddard Honey handle more order requests via email versus over the phone.
Mobile Website Design & Development
Stoddard Honey's old website wasn't very mobile friendly, so we rebuilt their site so that it looks great when people view their site on their computers, tablets, or mobile phones.
"Our new website looks awesome! My company hesitated updating our website because we didn't think many people looked at it. But I'm sure glad brian hooked us up. After I saw the new website I realized how old school the old one was. He put a lot of thought and effort into the design, a lot more than I did for sure. Before I didn't think many people looked at our website but now I like showing off the new one to friends and family, even if they aren't interested in our product. He even designed us new labels for our product with a cool design."
---