SEO SERVICES
Would you like help from an SEO company (Search Engine Optimization) to improve your organic rankings on Google, Bing, & Yahoo? If so we're here to help.
We are an SEO company based in Alpine, Utah.
We can help you with onsite optimization, keyword research, link building, and much more. We even offer an initial free website evaluation. If your budget is big or small there is always areas in which we can help you improve your rankings. Call us anytime and/or email us using one of the forms at the bottom of the page. Learn more
Ranking low on google?
Are you tired of ranking low on the search engines? Sick of paying for all of your website traffic? Then it's time to improve your website's SEO and our team of SEO experts can help.
Are you competitors ranking above you?
If you're always at the bottom of the search engine results or can't even be found on the first page of google then it's time to make a change. Stop settling for bad rankings.
Are you paying for all of your website visits?
While Google ads (AdWords), Bing ads, and social media ads are very effective it's always great to get free traffic to your website. That is exactly what good SEO leads to, free traffic. Think of SEO work as upfront payment to get traffic. If your site is optimized for the search engines and you do the upfront work then you're going to enjoy the long term benefits of your initial investment. Good site optimization not only improves organic traffic, but it is also helps improve your paid advertising campaigns.
SEO SERVICES AT A GLANCE
Properly optimizing your website requires a variety of work. It consists of keyword research, competition analysis, content creation, technical optimization of your website, driving traffic to your site from the right sources, and many other factors. Learn more about some of these SEO services that we offer below.
FULL-SERVICE APPROACH
We optimize your site for SEO and complement this onsite site work with offsite marketing which includes Social Media Marketing and PPC marketing.
These various forms of advertising work organically together to improve your SEO and get your website ranked higher on the search engines.
PPC (AdWords, Bing)

Social Media Marketing (FB, Instagram, Twitter)

Email Marketing

Data & Analytics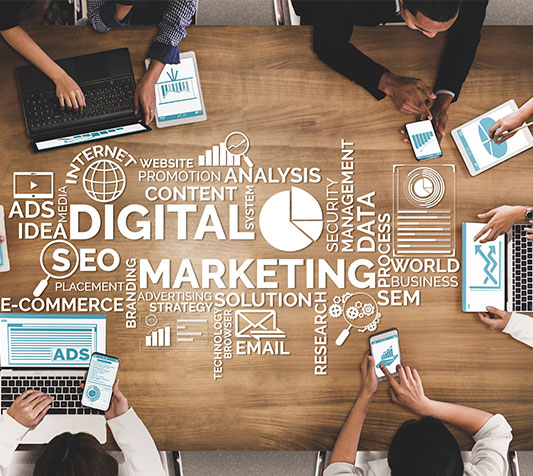 SEO EXPERTS
As an SEO company we have the team of experts needed to get the job done. We have at least 1 expert in every area. Some members of our team have multiple skillsets, but still have a focus on one area. Ranking high in the search requires multiple skillsets and we have the complete team to help your company succeed.
FAQ
Common SEO questions that we are asked by our clients.
How long does it take to improve SEO rankings?
We generally start to see SEO rankings improve in about 3 to 4 weeks. However, more significant changes take 3 to 6 months. It really depends on the level of competition for the keywords that you are trying to rank for.
How much does SEO work cost?
The cost of SEO work depends on 3 main factors/questions: 1) How many services/products and essentially keywords are you trying to rank for? 2) What level of SEO competition are you going up against? 3) What locations (City, State, Nationally, Internationally) are you trying rank high for? 4) Where do you currently ranking for some keywords you would like to rank for? 5) How well was your website optimized from the beginning? We do offer SEO starter packages that cost as little as $300 per month. However, we can't get you an exact price until we ask and answer the above questions.